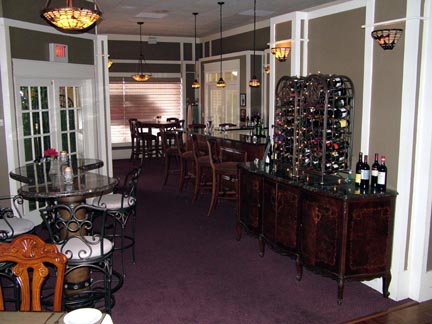 Bogey's Bar & Restaurant
Of all the Defuniak Springs restaurants, Bogey's Bar & Restaurant located in the Hotel Defuniak features the area's only fine dining. Bogey's was reviewed by the Northwest Florida Daily News food critic Colleen Coffield and was given 4 stars out of a possible 4 for it's elegant atmosphere, great service and outstanding and affordable dining. Each day there are specials for breakfast, lunch and dinner. Breakfast burritos and omelets in the morning, wrap and sandwich specials for lunch and a huge variety of creative specials for dinner.
The Defuniak Springs Restaurant features live jazz and blues entertainment on Saturday nights with musician Vincent Way.
Bogey's features a well-rounded wine list both by the bottle and the glass, plus a variety of specialty cocktails. For elegant nightlife in Defuniak Springs, Bogey's Restaurant is it.
Open for Lunch 11am-2pm Tuesday-Friday
Open for Dinner 5pm-Close Tuesday - Saturday
Call the restaurant at: 850-951-CAFE(2233) for reservations and information, or visit their website at http://www.defuniakspringsrestaurants.com
---
For More Information regarding accommodations or Dining call: 850-951-2233
Defuniak Springs Florida | History | Parks & Recreation | Library | Chautauqua hall of Brotherhood | Train Depot Station | Hotels | Restaurants
Copyright ©2014 DefuniakSpringsFlorida.net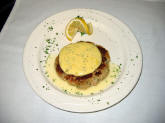 Jumbo Crabcake with Béarnaise Sauce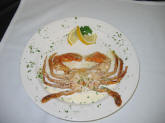 Sautéed Soft Shell Crab with Garlic Lemon Butter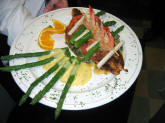 Blackened Fish with Asparagus, hearts of palm, grilled tomatoes, creamy spinach and shrimp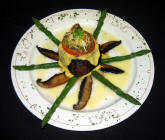 "Sunset Bayou" Filet Mignon.
Portobellos, asparagus and a tomato slice baked with pesto and breadcrumbs.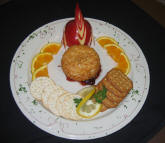 Almond-Encrusted Baked Brie Platter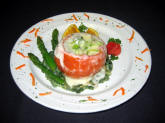 Roasted Tomato Stuffed with caramelized onions, mushrooms, capers and filet mignon tips. Melted provolone cheese on top.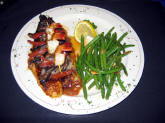 Blackened Fish served on a bed of roasted roma tomatoes and topped with red bell peppers, portobello mushrooms and shrimp.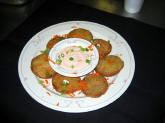 Fried Green Tomatoes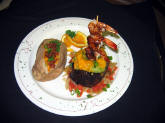 Filet Mignon on a bed of carmelized onions and sauteed tomatoes, topped with guacamole, melted cheddar and a mesquite shrimp skewer.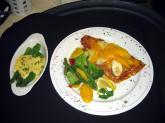 Nutty-Crusted fish with a sweet rum-butter sauce, mangoes, bananas, pineapple and peaches.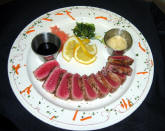 Sashimi-grade Yellowfin Tuna with pickled ginger, seaweed salad, soy sauce, wasabi and a sesame-ginger mayo.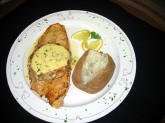 Fish "Lorenzo" with our crabcake on top and béarnaise sauce.