The town was founded by the officers of the Pensacola & Atlantic Railroad, a subsidiary of the Louisville & Nashville Railroad. The P&A Railway was organized to connect the terminus of the L&N near Pensacola to the western terminus of the Seaboard Railroad at River Junction -- now Chattahoochee -- in the 1880s. It was named after Frederick R. DeFuniak, the president of the L&N. Like much of Northwest Florida, DeFuniak Springs was settled mainly by Scots from Virginia and the Carolinas.
---
Here you will find information pertaining to Defuniak Springs, FL including history, hotels, restaurants, attractions and historic structures. Christmas reflections around lake Defuniak is also presented. There is a discussion forum to discuss Defuniak springs.
Located between Tallahassee and Pensacola, Defuniak Springs Florida is the county seat of Walton County. The Christmas Reflections, The Library, The Chautauqua Festivals, Hotel Defuniak, Restaurants and Lake Defuniak are just some of the attractions. Defuniak Springs is located off of I-10 and situated 30 minutes from the beaches of south walton in one direction, 30 minutes from the Alabama state line to the north. Defuniak Springs is one of two locations in the world with a naturally occurring round spring-fed lake.
Every year the Chautauqua assembly gathers in Defuniak Springs to celebrate the history of the assembly and to carry on the tradition.
Outdoor activities abound including hunting (especially deer), hiking, canoeing, golfing, fishing and boating. Freshwater fishing for bass is the main fishing target and for saltwater the Chactowatchee bay is a short drive away, as is Destin, Fort Walton Beach, Panama City and the charter fishing fleet.
Other yearly activities include the Bonifay Rodeo, the Walton County Fair, and numerous musical events from gospel to bluegrass and more. Within Defuniak Springs there is much to see, the oldest operating library is here, the Victorian homes around Lake Defuniak are a must see. The Big Store, the Little Big Store, Hotel Defuniak and Bogey's Bar & Restaurant shouldn't be missed for it's nightlife. As for Defuniak Springs Hotels, the Hotel Defuniak is a luxurious and affordable option.
Florida Panhandle Newspapers:
Defuniak Springs Radio Stations:
This is not the official website
For More Information regarding accommodations or Dining call: 850-951-2233
Defuniak Springs Florida | History | Parks & Recreation | Library | Chautauqua hall of Brotherhood | Train Depot Station | Hotels | Restaurants
Copyright ©2014 DefuniakSpringsFlorida.net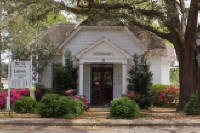 The Defuniak Springs Library